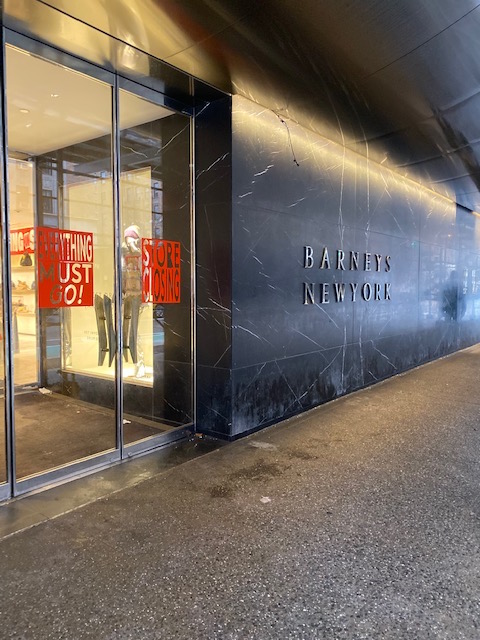 Repurposing Big Box Retail Space
January 03, 2020
Repurposed Retail Space
Dec 10, 2019
By: Aileen Messinger
On the same day this week that I visited Barney's and its way, way too big Store Closing banners in Downtown NYC, I experienced a contrary delight at Brookfield Place. Convene, the innovative event & meeting space disruptor, was celebrating the grand debut of its 73K SF gem in the shuttered Saks Fifth Avenue.
The two experiences were quite a contradiction for the retail narrative – but an overall positive message for the future of repurposing retail real estate – and big boxes in particular. Without overlooking the hard lesson these closures serve for both retailers, adaptable retailers and landlords are prevailing with creativity and adoption of innovative concepts.
Barney's may still be open in the physical sense, but the spirit (and merchandise) that embodied Barney's is certainly gone. Every single merchandise fixture, countertop, column, wall, railing, and inch of storefront bears what appear to be generic (dare I say, tacky) Going Out of Business signs. Gone are all the Estee Lauder family of cosmetics and Louis Vuitton merchandise and remaining are merchandise classes bearing the Barney's logo – the likes of which one can find at Bed Bath & Beyond, and can only assume were previously Warehouse and online-only wares. The overall experience was eerie and not at all the ceremonious and deserving send-off a Barney's devotee and retail professional would have hoped for.
Just a few miles further south at Brookfield place, I toured a majestic, 5-star quality hospitality experience in Convene's newly-minted, 2-level meeting & event space. It was unlike anything I've ever seen – especially, in a former department store. It is an entirely new class of dignified event & meeting space that targets a niche group size of up to 1,000 guests and is executed to near perfection. From the lighting and sound quality to pristine commercial grade kitchens where executive chefs were preparing a lamb dish when I visited for that eve's private Nasdaq-hosted reception. Convene embodies all of the elements that make an Apple flagship store and 5-star hotel reign supreme in their respective classes.
While pairing quasi office, convention/co-working space with retail isn't a novel idea, the magic most certainly lies in the details & thoughtful design and execution. Convene executes world-class hospitality elements in its f&b offerings, high design, décor, and craftsmanship, that really seem to connect and compliment Brookfield's quality & character fittingly. It has both the elements of ease of accessibility yet remains unencumbering on the retail personality of the property. Whereas Saks benefitted from street-facing signage, visibility, and direct accessibility, these same site attributes serve Convene guests while simultaneously respecting the retail customers' path during peak event times. A win/win for both.
The fate of the spiral staircase that served as the focal point of the Downtown Barney's store, (and adorned several of my Instagram posts with ascend admiration), is yet known. The escalators at the former Saks Fifth Avenue Brookfield store, however, were replaced – upgraded – to beautiful staircases and additional elevators. Most will agree this was an enhancement in every sense to mere, functional escalators.
Aileen Messinger
Retail Consultant/Strategist